Keynote Speakers
Conferences
Juan Miguel Aguado
[Univ. Murcia]
Suzana Barbosa
[Univ. Federal da Bahia]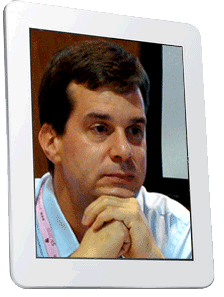 Juan Miguel Aguado holds a PhD in Communication Studies at the Complutense University of Madrid (Spain) and Postgraduate in Social Research by the Polish Academy of Sciences (Warsaw). He is member of the International Research Committee on Sociology of Communication, Culture and Knowledge (RC14) at the International Sociological Association (ISA).
Actually he is Associate Professor of Communication Theory in the School of Communication and Information Studies at the University of Murcia (Spain). His research and publications focus on the social impact of technology, mobility and the role of experiential mediation strategies in cultural consumption processes. He has published 7 research books and has collaborated with up to 30 chapters in edited research monographs and more than 30 research papers in academic and scientific journals. Currently he is the research director of a three year research project supported by the Spanish Ministry of Science and Innovation: Evolution of the Mobile Media in Spain.
Associate Professor at the Department of Communication (Universidade Federal da Bahia) .Researcher at the Group on Online Journalism (GJOL). Coordinator of the project Convergent Journalism Lab (Fapesb / CNPq). Is member of PROCAD 1640/2008: The Teaching of Journalism in the Age of Technological Convergence..
Was a journalist in several Brazilian newspapers. She is a graduate (1993), Master (2002) and PhD (2007) in Communication and Contemporary Culture (UFBA), and post-doctorate from the University of Santiago de Compostela / Spain (2007-2008). He was a member of the research network project "Journalism on the Internet: A Comparative Study of Cybermedia Brazil / Spain" (CAPES/ DGU 140/2007-2011).
In 2007, she published the book " Third generation digital Journalism " (LabCom Books) and has published several articles in national and international journals.
Software panel
Paulo Fernandes
[Universal Tech]



Paulo Fernandes has a degree in Computer Science Systems Engineering from Univ. Minho, is co-founder and administrator of Multivector IT, a portuguese company that, since 1999, is an expert and leader in developing technology solutions for real estate and automobile sectors. In 2008 he joined a new team and created the AdClip, the first network of classified ads on the Internet. In 2012, created the FlexReader, a platform that allows you to create native mobile applications to provide news content on smartphones.
António Gil
[Dom Digital]


Antonio Matias Gil is the founder and CEO of Sun Digital, a company created in 1997 and focused on creating web applications, social and native. In the area of media develop new interfaces for desktop platforms, mobile, tablet and TV, always using the cloud. He was coordinator of the evaluation study of the websites of the Portuguese Public Administration in 2006.
Daniel Nunes
[Niiiws]


Bachelor of Business Administration - with a brief passage through UBI - since 1996 working in areas related to Information Technology. This year embarked on a new project called Niiiws. The Niiiws available, for now, on iPad and iPhone, is a project created in Portugal which collects news free of all national newspapers and makes a ranking of interest by readers in social networks to present an issue, always updated and customizable, with the most relevant news of the day.
The Niiiws is already available in their respective editions in Spain, Brazil, France, United Kingdom and United States.
Hardware and Services Panel
Tiago Silva Lopes
[TMN]


Tiago Silva Lopes is currently the Director of Multiplatform Data and Content of TMN. Before assuming this position he was in "PT Comunicações" as CIO of "Portal SAPO"; as "Chief of Customer Care" in PT.Com and also as Head of Product Management at Telepac Internet.
Nelson Lourenço
[Vodafone]



Nelson Lourenço is currently the team responsible for the content of Vodafone, accumulating a 10-year experience in marketing and innovation in telecommunications services. In recent years has been managing the Vodafone mobile portals (one million unique users/month) and his team have managed to achieve significant milestones in the market. Examples of this are: the release of the first application of live streaming TV on the AppStore worldwide in 2008 through the Vodafone Mobile TV service, the SMS news alerts with greater penetration in the Portuguese market ( in partnership with the Público newspapper) back in 2009, called "Last Time" (400 thousand visits), the Vodafone music store music accounts for more than 50% of mP3 tracks sold in Portugal.
Jornalism Panel
Henrique Monteiro
[Impresa - Expresso]



Henrique Monteiro is a journalist since 1979, working in the newspaper "Voz do Povo", "Notícias da Tarde", "Jornal de Notícias", "O Jornal" and "Expresso". Appointed director of the "Expresso" in 2006, two years later became publisher of this journal, accumulating with the functions of director of the magazine "Exame" and "Courrier Internacional". Since January 2011 is the administrator and Editorial Director for New Platforms Group Impresa Publishing.
Pedro Tadeu
[Controlinveste]

Pedro Tadeu was born 1963 in Lisbon. At age 20 began his professional activity in the world of journalism. Since 1983 until today Pedro Tadeu already spent by various titles such as "Capital" and "24". He is currently deputy director of the Daily News and director of Global Images agency. He also collaborated with several newspapers and radio stations.
José Alberto Carvalho
[Media Capital/TVI]


José Alberto Carvalho started his journalistic activity on local radio. In 1989 passed by the TSF, later changing RTP, where he was until 1992. For ten years he was in the SIC, but in 2002 returned to RTP to accumulate presenting the newscast with the direction information. In February 2011 moved to TVI, where information director. In places you have been always gave a strong impetus to the adoption of new technologies in journalism.